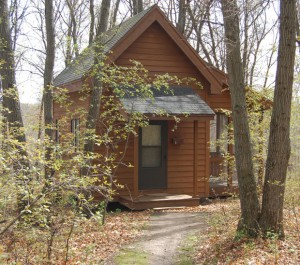 A hermitage is a holy dwelling place, a simple but comfortable prayer cabin that enables those on retreat from the burdens of everyday life to be more fully attentive to the Presence of God.
Pacem's 19 hermitages are nestled carefully into the woods amidst the beauty of the natural environment to ensure the quiet and solitude of each hermit guest on retreat. In addition, Pacem offers three hermitage rooms inside the lower level of Our Lady of Pacem that have access to electricity and running water. Those are designed for guests with mobility issues or who need access to electricity.
Each hermitage is named in honor of a patron saint whose extraordinary life story gives witness to a life of faith and inspiration to those who are on their own spiritual journey. We invite these holy patrons to join with us in prayer as we hold each hermit guest before the altar of God. The map below shows the locations of the hermitages on the Pacem in Terris property. Click on a hermitage name in the list on the right to learn about the patron saint that it honors.
The Hermitages
As you enter your hermitage retreat experience, you also share in all the prayers and preparations of those living "saints" who have stayed and prayed in the hermitage before you. In turn, you will become a part of the next person's visit, as you prayerfully prepare the hermitage for the next hermit.
Click below to find out what to expect on your hermitage retreat.